Flood Recovery Initiatives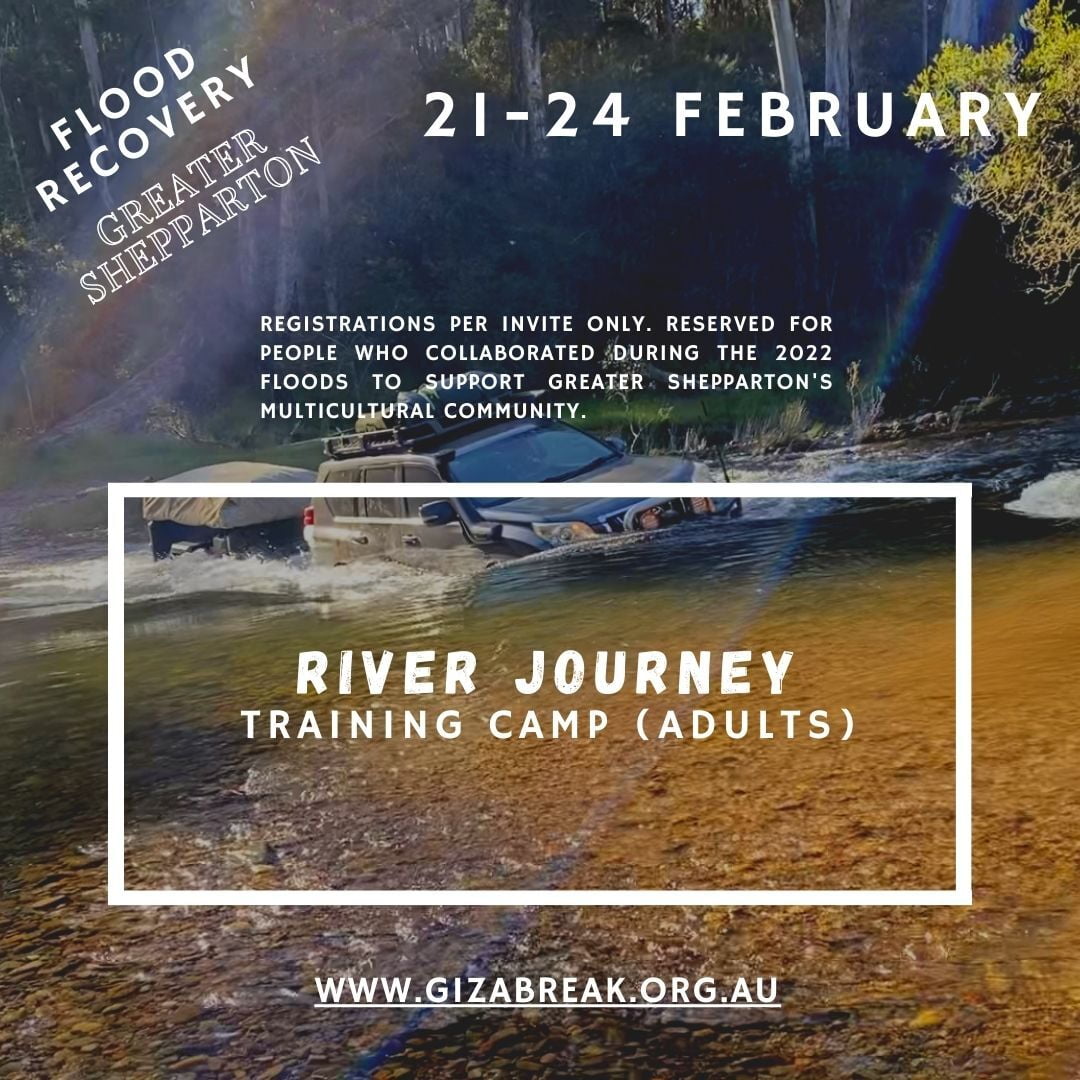 River Journey
A journey along the Goulburn River to its source. This training event is reserved for adults who will support the adventures for flood-affected young people from multicultural backgrounds. We integrate Mental Health First Aid training, learn from the Goulburn Broken Catchment Management Authority team about our waterways and flood events, and develop a clearer picture of how we can work more proactively together to protect our community during natural disasters. This event is also an opportunity to review and celebrate our collaboration during the 2022 flood event, during which we worked together to support vulnerable community members. This adventure is by invite only and reserved to not-for-profits who work together to support Greater Shepparton's multicultural community.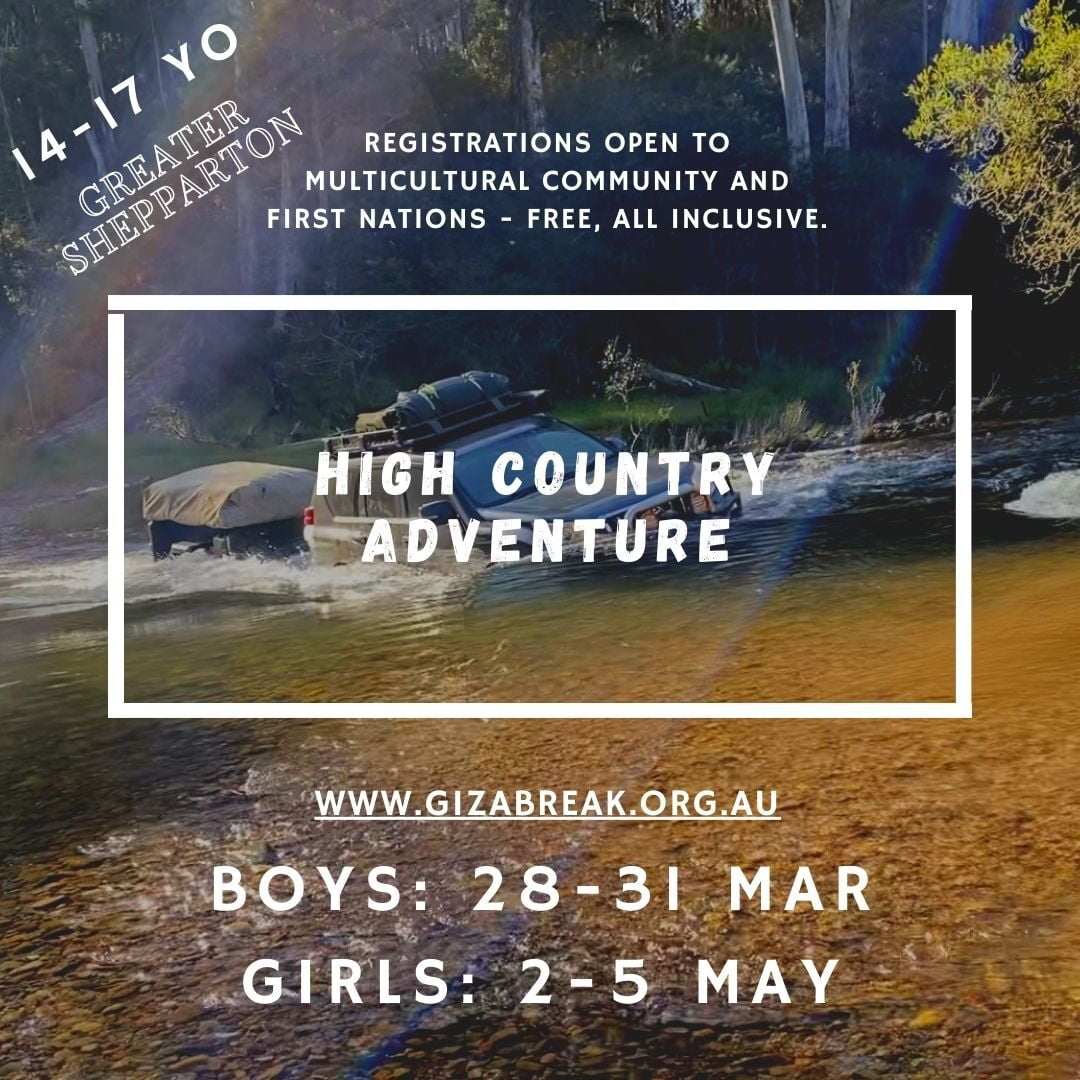 4x4 Adventure camps for 14-17 year olds
We'll run four free 4x4 adventure camps for young people affected by the Shepparton / Mooroopna Floods. Two have already been delivered, and two more are now open for registrations (28-31 March for boys and 2-5 May for girls). Head off for a 4-day all-inclusive four-wheel drive adventure with us. Reserved for multicultural and First Nation young people. The team includes male and female staff, youth and social workers. Languages spoken by the team in addition to English: Arabic, French, German (and likely more - TBC).

We live and work on Aboriginal land. We acknowledge the Traditional Owners of the land our adventures take place on:
Yorta Yorta

and

Bangerang

(lower Goulburn River and Murray River)
Taungurung

(western Alpine region)
Eastern Maar Country

(Otways)

Djab Wurrung

and

Jardwardjali

(Gariwerd / Grampians)
Barengi Gadjin

(Victorian Desert

s)
We are acutely aware of, and celebrate, the fact that Aboriginal cultures are the oldest surviving cultures in the world, and we include truth telling in our adventures.
#lessgo
Community Initiatives
So, you'd like to arrange for an adventure or an initiative for your school or community to bring about change for some or many? This is for you.
Independent Adventures (NDIS)
Want to boost your social skills, become more independent, and increase your community participation? Find out about our camps and 1:1 mentoring programs accessible to anyone, including self-funded and NDIS funded participants.
High Country
Mountain tops, water falls, crystal clear streams and amazing 4x4 tracks. Oh, and high country huts thrown into the mix as well. Our camps are between October and May, and our 1:1 Adventures go all year around.

Otway Magic
Come along for an unforgettable off-road adventure through the Great Otways. Rainforest, shipwrecks, beaches and waterfalls - all in the one day. This is true magic: The Great Ocean Road from an angle few get to experience.
Strathbogie Ranges
So close to our base and yet sooooo goooooood! Slippery clay, creeks, rain forest and steep, rocky and rutted tracks. A real adventure playground!
The Rivers
We're so lucky to live in River Country: The Broken and Goulburn Rivers make for wonderful fishing and kayaking destinations, and the Murray's hidden sandy beaches and River Redgum forests are the perfect destination for some respite - and koala spotting!
Who are we?
Giz A Break gives people the break they need, when they need it most. We specialise in delivering outdoor-based health promotion initiatives that we co-design with communities, organisations, and groups. The issues we tackle can be diverse - they include primary prevention, such as the working with young people to build their resilience and so prevent mental health issues down the track, right through to secondary prevention, such as working with people who are recovering from significant illness. Giz A Break is a registered charity run by a team of passionate people who live in rural Australia and want to make a difference through grass-roots, meaningful, practical action.

Permission to play.
We're children at heart - think Pippi Longstocking, and you get the picture. We get excited about stuff. We believe in the good in people. We believe that finding time and space to play is good for young and old. Playing is how we practise being part of a community, coping with setbacks, and celebrating successes. It's through making experiences in safe environments that we learn how to become resilient, how we learn new, healthier ways of doing things. The purpose of Giz A Break is to create that space.

In it for the right reasons.
We're a not-for-profit organisation and a registered charity with DGR (tax deductible gift recipient) status. This means three things:
We don't aim to make a profit.
All our revenue goes towards achieving our purpose.
Donations can be deducted from your taxable income.
Skilled team & unique service.
Based in Dookie (VIC 3646), we get regional and rural life and everything that comes with it. With experience and qualifications in health and community services coupled with 4x4 certifications, we bring a unique set of skills to the table. Whether you're a school that wants to work creatively and intensively with a specific cohort of students, or whether you're an NDIS participant looking for capacity building initiatives that are different yet complementary to traditional clinical approaches, we've got you covered.