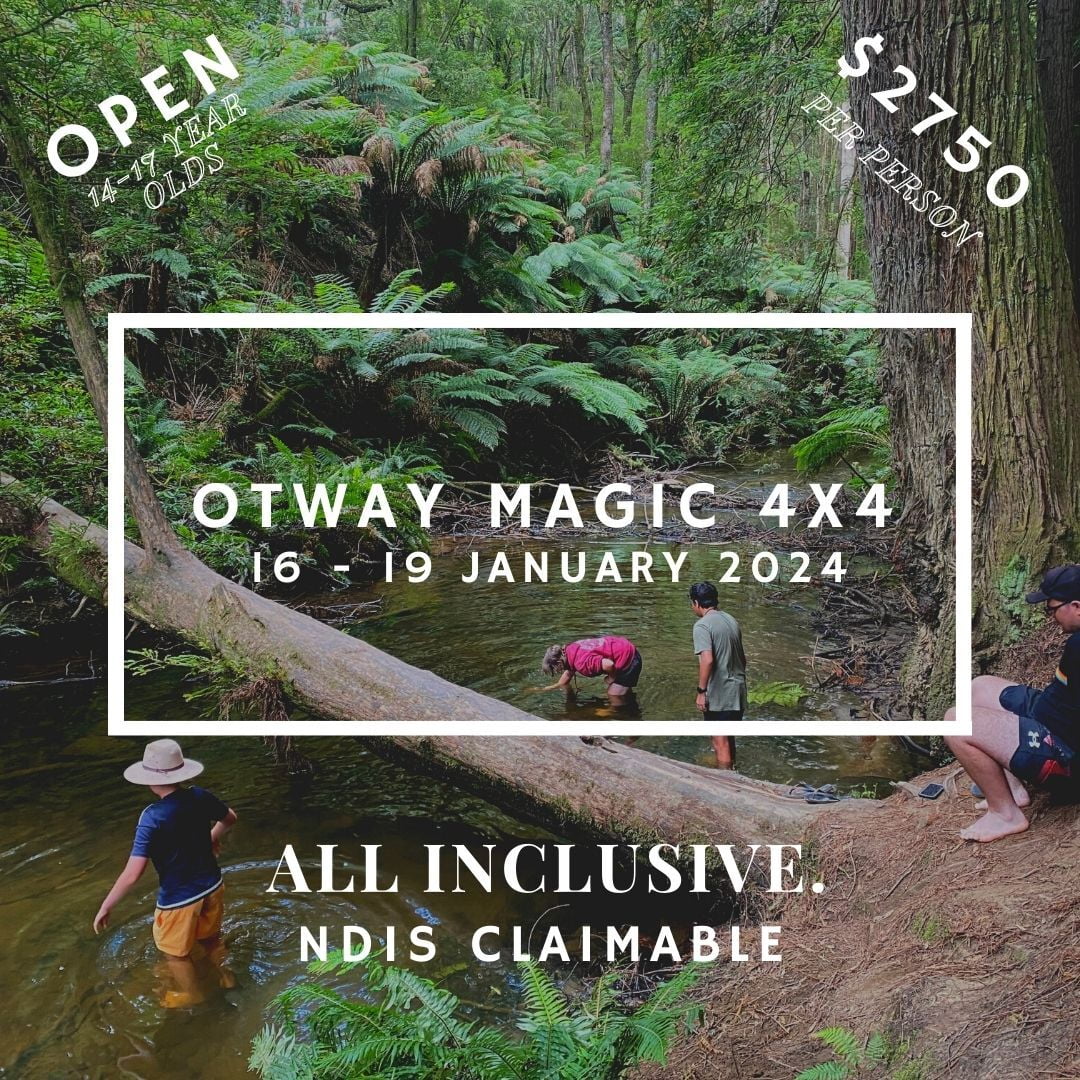 Otway Magic adventures in January 2024
We'll be running three camps accessible to young people in January 2024:
14-17 year olds: 16-19 January
17-22 year olds: 20-23 January
10-13 year olds + carer: 24-27 January
You'll be experiencing the Otways along the Great Ocean Road from a completely new angle - tough 4x4 tracks along the cliffs, sandy tracks to remote beaches, slippery tracks in the rain forest, and of course waterfalls, fishing, and a nighttime adventure await. Oh, and you'll be experiencing some close encounters with the stars of the region: Koalas!
Our adventures aim to build your self-esteem, social skills, and interest in more actively participating in your community. To achieve this, you'll be supported by our team of qualified outdoor ed and social / youth work staff. You'll be camping, but not without some creature comforts: You'll sleep in top-notch and spacious swags, and eat delicious food made by awesome restaurants. All equipment and all food is provided. All you have to bring are your clothes and a pillow.
Please note that participation is self-funded. Most participants in these types of adventures do this under the NDIS, Carer Gateway, Department of Health and Human Services programs, or privately.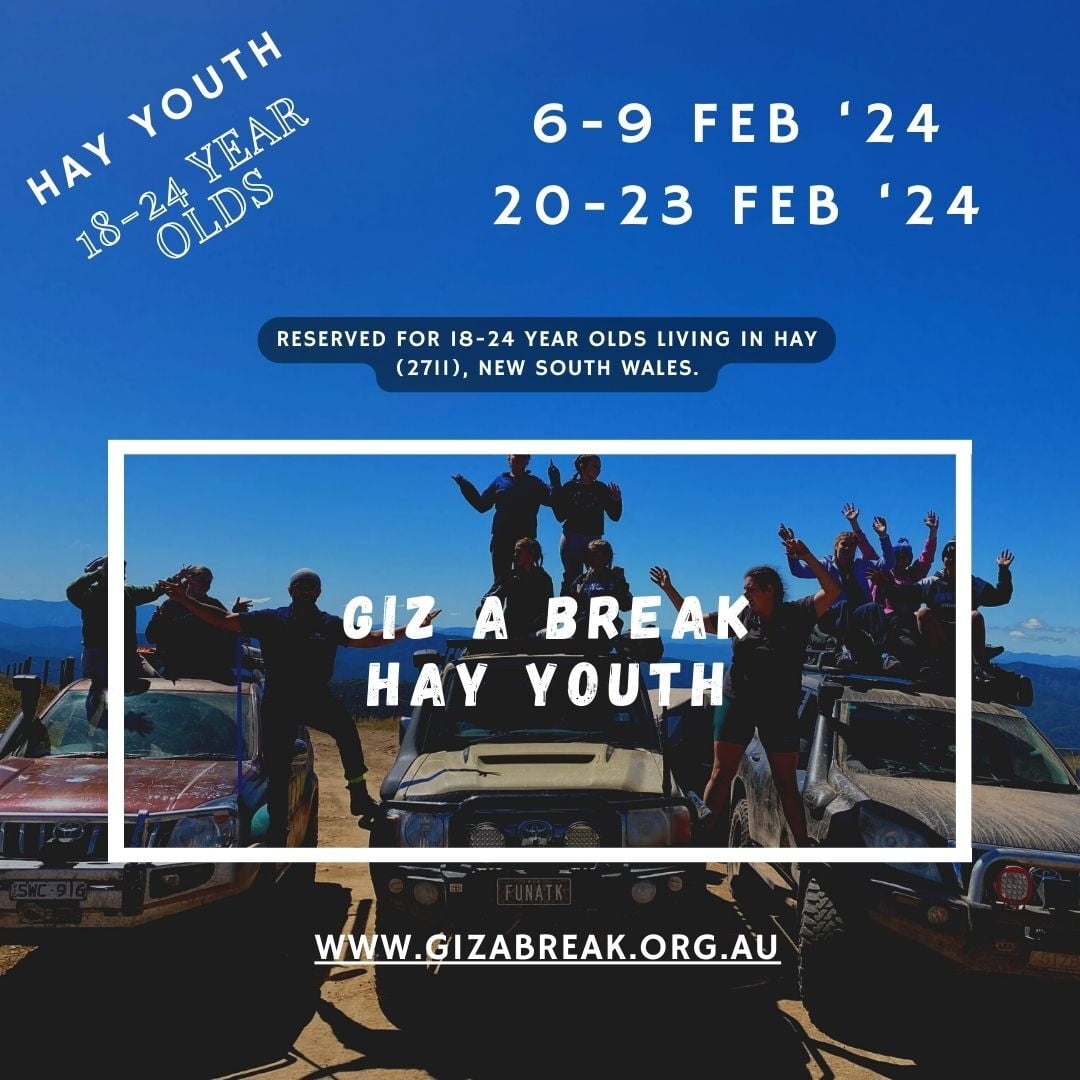 You asked for it - and here it is!
Young adults from Hay, you've been telling us that you reckon you're missing out on all the fun the 14-17 year olds are having, and we know some of you came with us 4 years ago and would love to have another crack. So, let's get this show on the road! A magic adventure through the high country awaits - 4x4 tracks, towering mountains, and crystal clear streams teaming with trout. And of course the awesome Giz A Break crew looking after you!
A maximum of 9 participants per camp are able to come along, so if you're keen, don't wait and get your rego done - click on the button below. Before you do, please make 100% sure you can take the time off work / study!
We live and work on Aboriginal land. We acknowledge the Traditional Owners of the land our adventures take place on:
Yorta Yorta

and

Bangerang

(lower Goulburn River and Murray River)
Taungurung

(western Alpine region)
Eastern Maar Country

(Otways)

Djab Wurrung

and

Jardwardjali

(Gariwerd / Grampians)
Barengi Gadjin

(Victorian Desert

s)
We are acutely aware of, and celebrate, the fact that Aboriginal cultures are the oldest surviving cultures in the world, and we include truth telling in our adventures.
Safety first
The safety and wellbeing of participants and everyone who engages with us, especially young and vulnerable people, is our top priority. You can access our Child Safety & Wellbeing Policy using the button below, and you can also provide us with feedback or make a complaint using the form (see the button below). You're also welcome to write to us on [email protected] or call us on 0401 833 110.
#lessgo
Community Initiatives
So, you'd like to arrange for an adventure or an initiative for your school or community to bring about change for some or many? This is for you.
Independent Adventures
Want to boost your social skills, become more independent, and increase your community participation? Get off screens? Find out about our camps and 1:1 mentoring programs open to anyone, including self-funded and NDIS funded participants.
High Country
Mountain tops, water falls, crystal clear streams and amazing 4x4 tracks. Oh, and high country huts thrown into the mix as well. Our camps are between October and May, and our 1:1 Adventures go all year around.

Otway Magic
Come along for an unforgettable off-road adventure through the Great Otways. Rainforest, shipwrecks, beaches and waterfalls - all in the one day. This is true magic: The Great Ocean Road from an angle few get to experience.
Strathbogie Ranges
So close to our base and yet sooooo goooooood! Slippery clay, creeks, rain forest and steep, rocky and rutted tracks. A real adventure playground!
The Rivers
We're so lucky to live in River Country: The Broken and Goulburn Rivers make for wonderful fishing and kayaking destinations, and the Murray's hidden sandy beaches and River Redgum forests are the perfect destination for some respite - and koala spotting!
Who are we?
Giz A Break gives people the break they need, when they need it most. We specialise in delivering outdoor-based health promotion initiatives that we co-design with communities, organisations, and groups. The issues we tackle can be diverse - they include primary prevention, such as the working with young people to build their resilience and so prevent mental health issues down the track, right through to secondary prevention, such as working with people who are recovering from significant illness. Giz A Break is a registered charity run by a team of passionate people who live in rural Australia and want to make a difference through grass-roots, meaningful, practical action.

Permission to play.
We're children at heart - think Pippi Longstocking, and you get the picture. We get excited about stuff. We believe in the good in people. We believe that finding time and space to play is good for young and old. Playing is how we practise being part of a community, coping with setbacks, and celebrating successes. It's through making experiences in safe environments that we learn how to become resilient, how we learn new, healthier ways of doing things. The purpose of Giz A Break is to create that space.

In it for the right reasons.
We're a not-for-profit organisation and a registered charity with DGR (tax deductible gift recipient) status. This means three things:
We don't aim to make a profit.
All our revenue goes towards achieving our purpose.
Donations can be deducted from your taxable income.
Skilled team & unique service.
Based in Dookie (VIC 3646), we get regional and rural life and everything that comes with it. With experience and qualifications in health and community services coupled with 4x4 certifications, we bring a unique set of skills to the table. Whether you're a school that wants to work creatively and intensively with a specific cohort of students, or whether you're an NDIS participant looking for capacity building initiatives that are different yet complementary to traditional clinical approaches, we've got you covered.